An analyst has explained that the absence of miners on the Ethereum network could be bullish for the ETHBTC ratio.
Miners Provide A Persistent Selling Pressure On Bitcoin
As explained in a tweet by Tom Dunleavy, a Messari research analyst, BTC miners sell almost all the coins they mine. The below chart contains data about the top ten public Bitcoin mining companies, displaying information such as how much each of them mined this year, the amounts that they sold, and the size of their current holdings:
Looks like Marathon is holding the largest reserve right now | Source: Tom Dunleavy on Twitter
In total, the ten largest mining companies in the space mined a collective 40.7 BTC this year and sold 40.3 BTC. This means that they roughly dumped the entire supply that they mined in 2022 and in the process, applied constant selling pressure on the network.
Earlier in the year, Ethereum successfully transitioned to a Proof-of-Stake (PoS) consensus mechanism, which means the blockchain no longer uses miners for handling transactions, and rather uses stakers (investors that have locked 32 ETH in the PoS contract) to act as validating nodes.
In a Proof-of-Work (PoW) system, miners compete with each other using large amounts of computing power. Therefore, many expenses are involved in getting up their facilities, but one cost, in particular, stays with them as long as they continue to operate: the electricity bills. It is because of these electricity bills that miners have to continuously sell what they mine to keep their business sustainable.
Some miners try to hold onto their reserves for as long as possible, like Marathon, and Hut8 can be seen doing in the chart. Still, in a market like right now, where electricity prices have shot up while the BTC price has plummeted due to the bear, margins are fine for the already debt-ridden public miners, and thus most of them can't afford to accumulate.
In the case of a PoS chain, however, stakers don't incur such expenses and thus don't have any particular need to sell the rewards they earn while staking. This implies that the type of selling pressure that miners put on Bitcoin isn't present on the Ethereum blockchain.
The analyst believes that this fact provides a good thesis to be bullish on the ETHBTC ratio.
Ethereum Price
At the time of writing, ETH is trading around $1,200, down 1% in the last week.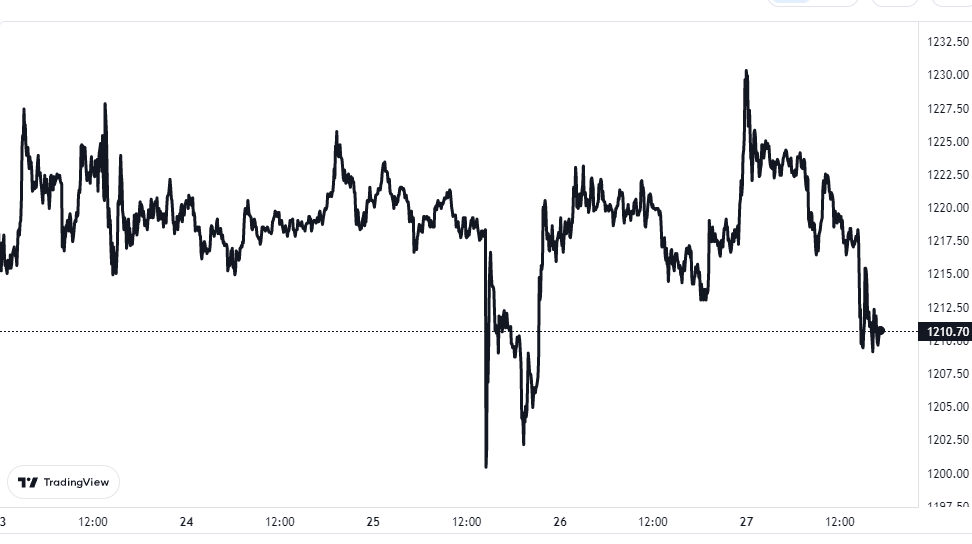 The value of the crypto doesn't seem to have moved much during the last few days | Source: ETHUSD on TradingView
Featured image from Pierre Borthiry – Peiobty on Unsplash.com, chart from TradingView.com